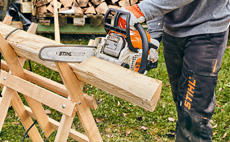 Petrol chainsaws for domestic users
For cutting firewood and grounds maintenance
There are many good reasons for choosing a compact chainsaw: advanced technology and safety features based on those of the professional saws, easy handling and an ergonomic design for working without tiring. STIHL compact saws are ideal for thinning shrubs and bushes and small trees, as well as for cutting firewood.These models are available as basic versions or comfort models (C),Chain Quick Tensioning (B) and ErgoStart (E) for jerk free starting.
ⓘ Safety Notice
When using a chainsaw, you must always take the correct precautions. Please wear the correct personal protective equipment before you begin using your chainsaw.
Clothing must be sturdy and snug-fitting, but allow complete freedom of movement. Avoid clothing that could get caught on branches, brush or moving parts of the machine. Do not wear a scarf, necktie or jewellery. Tie up and confine long hair with a head scarf, cap or hard hat.
You must wear trousers or chaps with cut-retardant material.
You must wear suitable safety shoes with cut-retardant material, non-slip soles and steel toe caps.
To reduce the risk of eye injuries, wear tight fitting safety goggle conforming to standard EN 166 or a face shield.
Wear hearing protection, for example ear defenders.
If working in an area with the risk of falling objects, wear a hard hat.
Wear sturdy, protective gloves made from a resistant material.
If you are in any doubt about how to use a chainsaw correctly, we recommend speaking to your local STIHL Approved Dealer first. Many dealers offer a Click & Collect service, where you can order online then collect it in person where a trained member of staff can give you a full handover and instructions on how to operate the machine. Please note you should never use a chainsaw whilst on a ladder and should only use it in a tree if you have the appropriate qualifications.
You can find videos showing you how to fill your machine with fuel and oil, fit bars and chains and start your chainsaw here.
* Manufacturer's recommended retail price updated as of May 2022. The manufacturer's recommended retail prices are subject to change without notice.
The version(s) available in each country may differ from the above range and specifications; specific details may be subject to change without notice. Please ask your local STIHL Approved Dealer for further information.